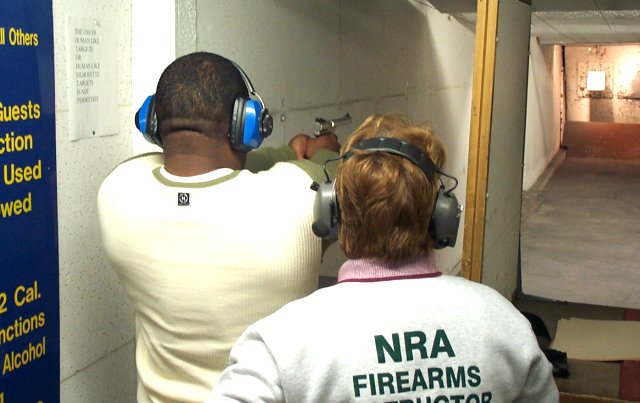 The Tewksbury Rod and Gun Club offers a MA State Police approved Basic Firearm Safety course to both its membership and the general public.
In order to obtain a License to Carry a Firearm in the state of Massachusetts, you are required to attend a basic firearm safety course.
This course is accepted by the state and a certificate will be issued to you as proof of completion.
Instructors will provide hands on learning in the following areas:
safe firearm handling
firearm parts and operation
ammunition and its function
shooting fundamentals
how to select, clean and store a firearm
overview of the Massachusetts Firearm Law that was enacted on October 21, 1998.
live fire practical on the club's fifty foot indoor range
The course is typically held the 3rd Saturday of the month between September and May, except December, as long as a minimum of 5 people register.  The course is a eight hour course which runs from 8:30 am to 5:00 pm.
The class costs $85 for TR&G Club Members or $125 for non-club members.
Immediate family (husband, wife, son, daughter) of TR&G members are also eligible for a reduced price ($85).
If you are interested in taking the course, please e-mail us!
firearmsafety@tewksburyrodandgun.org
Enrollment will only be confirmed upon receipt of payment.
Maximum Enrollment: 12 (minimum 5)
(note: your check will not be deposited until the date of the class and will be returned to you if you cannot attend)
Please Note: Students eligible to attend the Basic Pistol course through Tewksbury Rod and Gun are required to be at least 21 years old – the age requirement to obtain a License to Carry in the state of Massachusetts. Upon completion of the course, a student roster including your full name and date of birth will be submitted to office of the Colonel of State Police as required under the Code of Massachusetts Regulations 515 Section 3.04.
For additional information:
Rich Sorrentino (978) 277-3050, or send e-mail to firearmsafety@tewksburyrodandgun.org
Please email firearmsafety@tewksburyrodandgun.org to be added to the list for this month's class!
Course Schedule *

January 19, 2019

8:30 am

-

5:00 pm
February 16, 2019

8:30 am

-

5:00 pm
March 23, 2019

8:30 am

-

5:00 pm
April 20, 2019

8:30 am

-

5:00 pm
September 21, 2019

8:30 am

-

5:00 pm
October 19, 2019

8:30 am

-

5:00 pm
November 16, 2019

8:30 am

-

5:00 pm
* Courses held when a minimum of 5 people pre-register